PROJECT DESCRIPTION
Reaching out to an increasing number of disability service organisations and their clients, a series of multimedia / short film workshops were held at Camden Creative Studios for people with disability in the Macarthur area, between July and December 2009.
The hands-on sessions were designed to enable participants to familiarise themselves with every aspect of film making, from start to finish, in order to demystify and experience the art of creative self expression through contemporary media.
As the workshops unfolded, discovery and invention elicited reactions that ranged from hugely funny to deeply touching. The various explorations culminated in a DVD compilation of seven quirky short films.
As well, to literally 'enlarge' upon the journey of filmmaking, a premiere on the big screen at United Cinemas Narellan to celebrate Camden Council's International Day of People with Disability (IDPWD) 2009 festivities was generously provided, to a packed house.
OBJECTIVES
To provide an opportunity for people with disability to gain hands-on exposure to multimedia and short filmmaking, involving them in the process of creating their own content.
To connect with more partners and engage with more participants in the Macarthur area disability sector.
To produce a short film each for the various groups, plus a souvenir DVD package for the participants to keep and share.
Take a sensational leap, from the computer monitor to the giant cinema screen, by negotiating a deal with United Cinemas Narellan to dramatically premiere the films on the IDPWD, 2009, in a red carpet function at their theatre complex.
To garner support for the establishment of an annual short film festival at Narellan for people of all ages, abilities and backgrounds, in which people with disability can equally participate.
PROCESSES, ACTIVITIES AND PARTNERS
Following funding input from Camden Council's CFAP funding and Australia Council's ArtStart program, Camden Creative Studios was engaged to devise and conduct several sets of workshops with a variety of disability organisations, from existing - Macarthur Disability Services - to the newly recruited - Sylvanvale Foundation, Mater Dei, Good News Community.
After initial brainstorming to determine a theme, projects were scoped to suit each group's abilities and needs. A good degree of flexibility was involved in order to adapt to unforseen circumstances, which often arose.
Projects were based either on stills sequences or motion video footage. The stills and footage were mostly captured outside the Studios, involving the participants as subjects. In-studio workshops consisted of importing the captured vision, recording voice and sound effects, creating music loops for soundtrack and rough-editing stills and motion. Teamwork became a significant factor.
The films required a hefty post-production component to bring them up to speed. This was done by Camden Creative Studios after the workshops were over and consisted of consolidating the wild/raw footage into cohesive storylines, audio mastering, soundtrack creation, titling and sub-titling, any animation production, eg, 3D (utilising participants skills from another Studio project: Work for the Dole), compositing, colourising, special FX, exporting, interface, graphic design and artwork for the final DVD package and printed launch invitation offshoot.
Contact was made with the owner of Narellan United Cinemas to, both, host the premiere screening and consider supporting an ongoing annual short film festival. Upon his consent, a grand red carpet launch was prepared.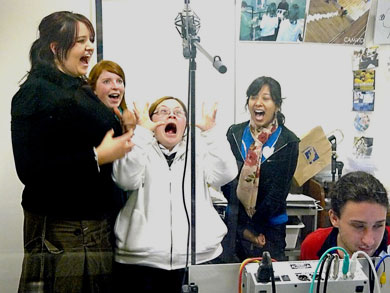 STAKEHOLDERS INVOLVEMENT
Camden Council – provided Community Grants funding, the studio facility and staff: media and venue brokering and films' post-production assistance by Cultural Development Coordinator, Angela Pasqua, and disability organisations liaison and red carpet launch coordination by Community Project Officer, Vanessa Ferreira.
Artstart program, underwritten by the Australia Council and coordinated by Bankstown Youth Development Service - provided funding
Designer / producer / educator Olev Muska – workshop planning and delivery and post-production of the final films and DVD package.
Macarthur Disability Services – supplied carers and transport; conducted additional filming.
The Sylvanvale Foundation – supplied carers and transport; conducted additional photography.
Mater Dei – supplied carers and transport; conducted additional photography.
The Good News Community – supplied carers and transport; conducted additional photography.
The various disability organisations' clients – presented as students, co-producers and subjects in the films.
United Cinemas Narellan owner, Roy Mustaka – provided the venue for the launch and a commitment to hosting the annual short film festival.
The Hon Paul Lynch MP, Minister for Ageing, Disability Services and Aboriginal Affairs – provided seed funding for the annual short film festival.
FORMAL COUNCIL COMMITMENT / RELATIONSHIP TO MANAGEMENT PLAN
Council's 2025 Strategic Plan sets out the long-term vision for Camden, including a Camden that has achieved a broad range of opportunities for a prosperous and complete lifestyle. In the Cultural Plan, objectives, goals, outcomes and actions are detailed that address specific strategies for achieving these ends. The initiatives of this project continue to help consolidate the vision of Camden Council's Cultural Plan 2008 – 2013, 'Cultivating Creativity in Camden', specifically in:
OBJECTIVE 2 - Ensuring community cultural equity and diversity, OUTCOME 5 - Equitable access without barriers to the possibilities of creative exploration and expression through the arts, particularly for people with a disability.
OBJECTIVE 5 - Providing opportunities for further education and training, OUTCOME 1 - There are increased opportunities for people to access both formal and non-formal education - particularly in arts and culture - throughout the area.
OBJECTIVE 5, OUTCOME 2 - There is a greater level of literacy across visual, aural, motion and interactive media throughout the LGA.
PROJECT OUTCOMES
Exposure, learning and skills development at a variety of stages, from entry-level to advanced. One client, for example, is a student of audio engineering at an accredited institution and, through this project, gained valuable mentorship.
Teamwork emerged and was encouraged and developed.
Partner organisations' and their carers' increased involvement at and beyond the Studios, advancing their knowledge of technology and filmmaking, especially in the context of disability.
The creation of seven short films with a high level of participant involvement through the entire process up to post-production.
A memorable souvenir DVD package to share and promote the project, its outcomes and possibilities for the future.
Given voice, surprise revelations emerged in the way personalities flowered and their stories were expressed. A particularly strong example was that of DJ Aaron who, in a lucid impromptu discourse, portrayed a heart-rending account of his life's struggles and aspirations. Already, new opportunities have arisen for Aaron as a result of the project.
The computer production taking flight onto the big screen, with the joy of sharing the fruits of their own play and work with the other groups, families and the wider community at the celebratory launch.
To capitalise, the celebratory screening became an opportune moment during which to declare an annual short film festival at Narellan for people of all ages, abilities and backgrounds, receiving the endorsement of both the local cinema owner to host the event and the Minister for Ageing, disability Services and Aboriginal Affairs, who committed seed funding for start-up workshops.
Media interest, both in the local papers as well as in the Sydney Morning Herald, ABC radio and, internationally, in the Spanish media.
ACCESSIBILITY CONSIDERATIONS
Camden Creative Studios continues to develop one of its main program areas in focusing on providing creative services for people with disability, both as a production facility as well as a hands-on creative and learning centre.
Enlisting state of the art hardware and software, though, is only part of the equation. Essential to the success of the programs are the unique vision and finely-honed multimedia and people skills of its key personnel – Council's Cultural Development Coordinator and the Studios' projects-based programs convener – who, since inception in 2006, have ensured that emphasis is placed on encouraging and eliciting what is distinctive to each individual participant's aspirations and character, enabling them to explore and reveal their true creative potential.
This is true not only for the disability clients but also carers from their respective organisations who, by attending the workshops, are themselves encouraged to become part of the creative and educational process.
On the DVD, wheelchair bound DJ Aaron's tenacity and joy in advancing his DJ'ing prospects clearly demonstrate that projects such as this are well placed to help transform accessibility into empowerment, greater choice and opportunity, allowing participants to develop self-confidence in their engagement with contemporary technology, the arts and the wider community.
BUDGET AND COST-EFFECTIVENESS
Camden Council provided funding, the studio facility and the services of the Cultural Development Coordinator and Community Project Officer.
The Artstart program allowed for more organisations to become involved.
United Cinemas provided the venue for the red carpet launch free of charge.
The designer / producer / educator was able to value-add by imparting a uniquely wide range of high-level digital multimedia knowledge which, otherwise, would have required several professionals to achieve.
The budget was tiny for a project of this scope, but thanks to the goodwill of all involved, their generosity has contributed, not only to a cost saving, but also to a memorable outcome affording the stakeholders a springboard into greater opportunity and success.